The Berlin exhibition IFA 2014 will officially open the doors tomorrow. But major manufacturers are already actively present new developments. Yesterday we told you about the new flagship smartphone Sony, and today we got 8-inch tablet from the Japanese manufacturer.
Xperia Z3 Tablet Compact is the first mini tablet from Sony. The main feature of novelty is a thin case (6.4 mm) and lightweight at only 270 grams.
As for the specifications, the engineers of the Japanese manufacturer managed to fit in a slim body powerful enough stuffing. The tablet is equipped with 8-inch display with a resolution of 1920x1200 pixels, Snapdragon processor 801 with a clock frequency of 2.5 GHz, 3 GB of RAM and built-in storage of 16 GB.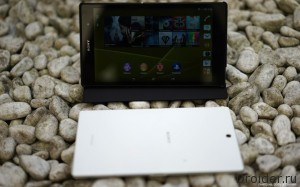 Also the new product boasts a main 8.1 MP and 2.2-megapixel front cameras, modules Bluetooth, Wi-Fi, NFC, GPS/GLONASS and a protection case against dust and moisture according to IP65 standards/68. For the autonomy of the gadget responsible battery capacity of 4500 mAh, which should be enough for 13 hours of viewing HD-video.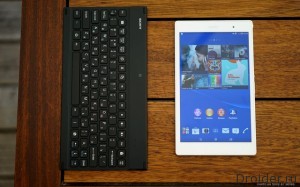 The gadget Works under control of operational system Android 4.4 KitKat with a proprietary graphical user interface. Online Xperia Z3 Tablet Compact will be in autumn 2014. Approximate cost is 380 Euro.
More details about the device you will be able to learn from our video.