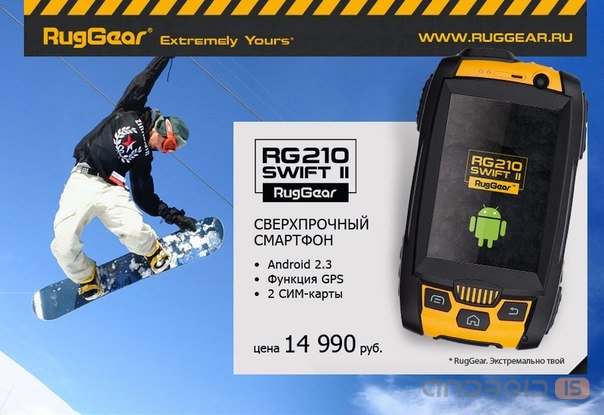 In the Russian market in the heavy-duty and protected from environmental influences and the machine RugGear RG210 Swift II, the cost of which is 14 990 rubles.
Running Android OS 2.3 Gingerbread, indestructible RugGear RG210 Swift II naturally equipped with a durable casing, which has passed all well-known crash tests of drops and bumps on a hard surface that corresponds to the IP67 standard for protection from dust, moisture and other problems from use of the device in extreme conditions.
It is a Pity that an emphasis on protection and durability, the manufacturer only superficially pay attention to the filling RugGear RG210 Swift II, equipping the smartphone simple gigagertsevym MSM7227A processor, 3.2-inch capacitive displays a resolution of 320 480 pixels, 1 GB of RAM and a slot for cards microSD, modules WI-FI and Bluetooth, 5-megapixel camera and a battery capacity of 1800 mAh.
In Addition, the machine RugGear RG210 Swift II boasts of a GPS receiver and two slots for Sim-cards, electronic compass, barometer, led flashlight and pedometer. Let me remind you, the price of 14 990 rubles.