Service for call cars, Uber has updated the design of the app for the first time since 2012, and presented the bookmarks for routes and the ability to specify the location of another person as the destination.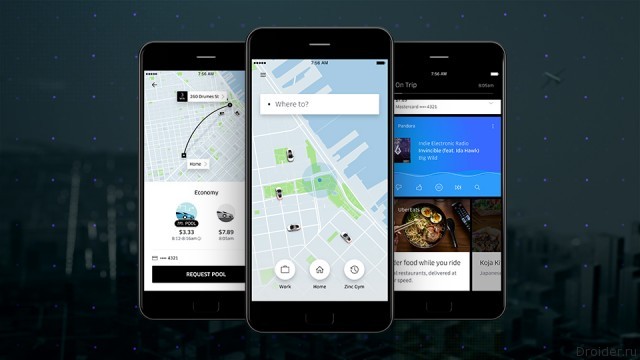 In addition, passengers will be able to use third-party services within the app Uber during a trip.
In a new application will need to first select the destination for the trip, and then specify the desired class of car. Uber now offers the opposite algorithm. The estimated cost of the trip will be displayed when you select the transport class.
Representatives from Uber said that now the app will "learn" on the trips and automatically create bookmarks for the most popular. For example, at home or at work. After selecting a bookmark will only have to specify the class of vehicle.
The company noted that in the future, "bookmarks" will be synchronized with the user's calendar. For example, before a scheduled meeting with Uber will offer to call a taxi for the trip to the business center, where you will be briefing.
In addition, Uber plans to add the ability to specify the location of another person to reach it. The company explains that people often use the app to travel to meet friends, but spend a lot of time to clarify the address.
"You can synchronise your contacts list with the app, select the person from the search and if it will share your location go right to it", — explained in Uber.
In Addition, the Uber app will appear to third-party services. With Yelp you can examine the reviews on the school, and through Foursquare to see what interesting places there are in the city on the itinerary. The company also promises to introduce special filters to Snapchat that will be available during the trip, and the opportunity to listen to music in streaming services without leaving the app. As an example, the company Pandora, which is officially not available in Russia.
"Since the last redesign in 2012 our application was harder to use. To return to the ease of using Uber, we rebuilt the service from scratch," said the company.
A New version of the app in the first place, will be made available to new Uber customers. The rest will have access to the updated service for "several weeks." The company will simultaneously update versions for Android and iOS.
Recall that in February 2016 Uber changed the logo and corporate identity, abandoning black-and-white palette. The largest change was another loading screen.