Apps4All announced the speakers and schedule reports, Russian largest Android conference Droidcon to be held in Moscow from 25 to 27 September 2015.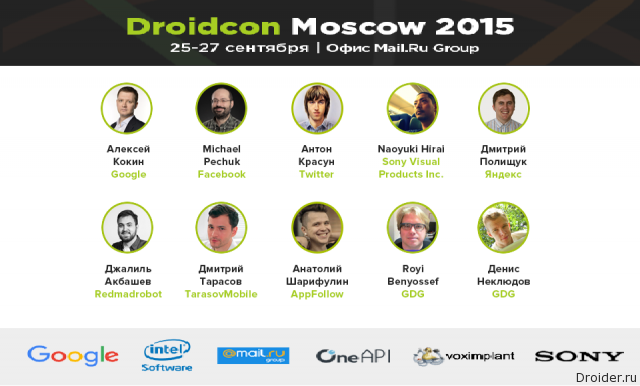 This year the conference will be divided into the following thematic blocks: Tech Day, Business Day and Community Day.
For the Tech Day, 25 September, professional developers talk about new features in Android Play;
Present the checklist that everyone has to make for stable operation of Android applications M;
Share the experience of solving problems in the interaction between threads;
Describe look at the design from the developer and show you how, do not understand the design, to do cute application;
More visitors learn how to integrate NFC payments and how to live with 2 Dagger in combat.
Key speakers: Alexey Kokin (Google Russia), Alexander Kulikova (Google Russia), Denis Neklyudov (Google Developer Expert), Gregory Janelidze (e-Legion), Anatoly Sharifulin (AppConsulting), Maxim Efimov (RedMadRobot), Anton Pukonen (Alfa-Bank), Dmitry Yunitsky (Mail.Ru Group), Dmitry Polishchuk (Yandex).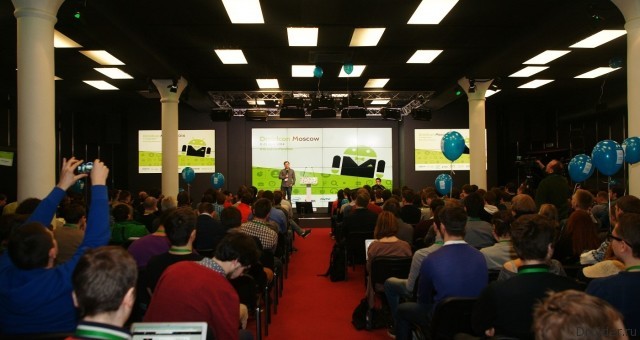 Business Day, 26 September, will be held in the format of reports on building a business, marketing, management, creation, development and promotion of products in the ecosystem of the Green robot.
Key speakers: Daniel Serdyukov (E-legion), Anton Krasun (Twitter), Michael Pechuk (Facebook), Vsevolod Ivanov (Touch Instinct), Dmitry Ryzhkov (Intel), Eugene Aldanov (J'son & Partners), Alin Jerpelea (Sony Mobile), Jalil Akbashev (Redmadrobot), Naoyuki Hirai (Sony Visual Products Inc.), Royi Benyossef (Google Developer Expert).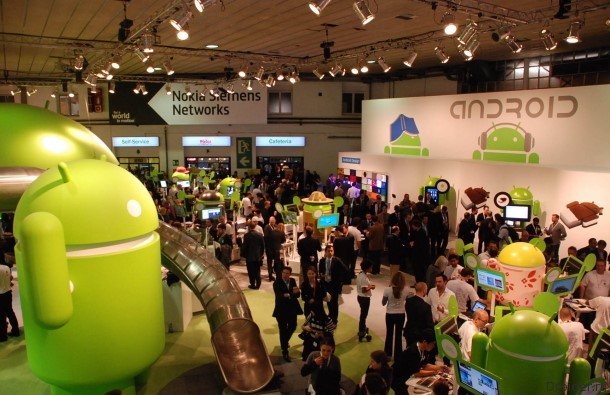 A Feature of Community Day, September 27, will be the live chat producers, programmers and testers, as well as representatives of game projects and potential investors to exchange experiences, lifehacks, contacts and ideas.
Key speakers: Bayram Annakov (Empatika), Dmitry Tarasov (TarasovMobile), Andras Gusti (Behemoth hippopotamus), Olga Mineeva (Intel).
"We are very pleased to announce that the program of the event is fully formed. This year it includes more than 40 presentations from leading technology companies, exhibition area, new formats and opportunities for communication. We are confident that enthusiasts, who only make their first steps in development, and industry veterans will receive useful information and help in creating beautiful apps and games, and will be able to make new contacts and experience," – says Alexander Vasiliev, CEO and co-founder Apps4All.
Gold partners: Google, Intel,
Silver partner: Mail.Ru Group
Bronze partner: OneAPI, VoxImplant,
Technical partner: Sony.
"Droidcon is an important event for our company, because Intel pays much attention to cooperation with the developers of Android apps. About news of our developer program will be available in early Community days on mitape Intel Developer Zone, where we will also hold a master class at the XDK. At our booth, participants will be able to get acquainted with Intel tools simplify the development process and will also see a new Android device based on Intel® Atom™ x3, with the RealSense camera. And of course, all the participants are waiting for interesting contests with prizes the original!", – shared Svetlana Emelyanova, specialist technical marketing at Intel Developer Zone.
The Official website events Droidcon Moscow 2015. Participation is free and possible for pre-registration.